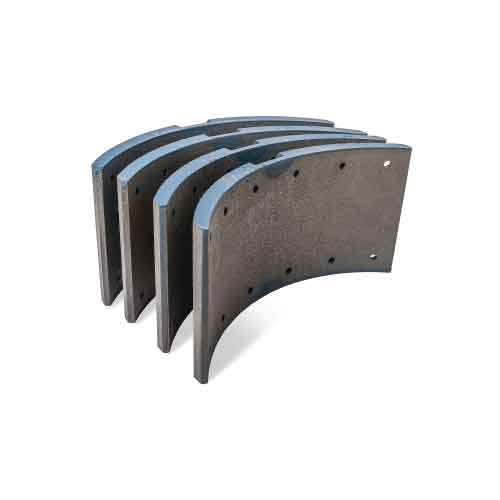 Brake lining is the hard material or substances attached to the brake pad to increase the friction against the drum. These are considered to be the best things that could happen to the modern automotive industry. These materials play a significant role as brakes use friction to stop. Brake lining is usually made using a combination of raw materials. These mixing and combining require special know-how and technical knowledge. There is a wide range of brake lining suppliers. One should ensure that the brake lining so selected is able to work effectively in different circumstances. It is, therefore, to choose the right kind of braking pad or shoe. It should fulfill certain performance requirements. It should have an optimum friction coefficient, have stable effectiveness, and withstand thermal disturbances, a high level of durability, a low level of conductivity, and others. These are generally manufactured for light commercial vehicles and heavy commercial vehicles. Here we will also discuss the benefits of using brake lining.
These are as follows:
Long-lasting material: The brake pads are made using material that is resistive and is long-lasting. They are designed in such a way so that they have low abrasion quality. The design is compatible with holding, maintaining, and dissipating high heat temperatures.
Variety of raw material used: The manufacturing of brake lining uses a variety of materials. The material so used gives sturdy shape and structure and helps to increase the brake life by 30%. There is a set system for managing and controlling the heat temperatures.
Certified formulation: The manufacturers in the field carry out the process after receiving the certified formulation. This ensures that the product is formulated in the right way. There is an ECE-R90 certified formulation for the brake lining.
Automatic manufacturing ability: Some manufacturers have setups with the ability to manufacture this brake lining automatically. This helps to ensure standardization in processes and achieve greater efficiency and effectiveness. They also then have the in-house testing facility known as the dyno testing facility.
Application for both kind of vehicles: The brake lining has its application for both heavy commercial vehicles and light commercial vehicles,
Clean tires: The friction that is caused between the rotors and the brake pad disintegrates slowly and leaves a residue on tyres that are known as brake dust. These could result in faster wear and tear. But the latest manufacturing technology keeps this thing in mind and then manufacturers the lining product.
Produce less sound and noise: The material used as a structure is designed in such a way to produce low sound. These do not squeal while applying the brake.
There are various brake pad manufacturers in India that provide high-quality products and services for their customers to ensure the best output. One should keep in mind all the pros and cons and then go for the buying decision. They can choose the right king of manufacturer of the brake lining from the wide range available.