Green Belt Initiative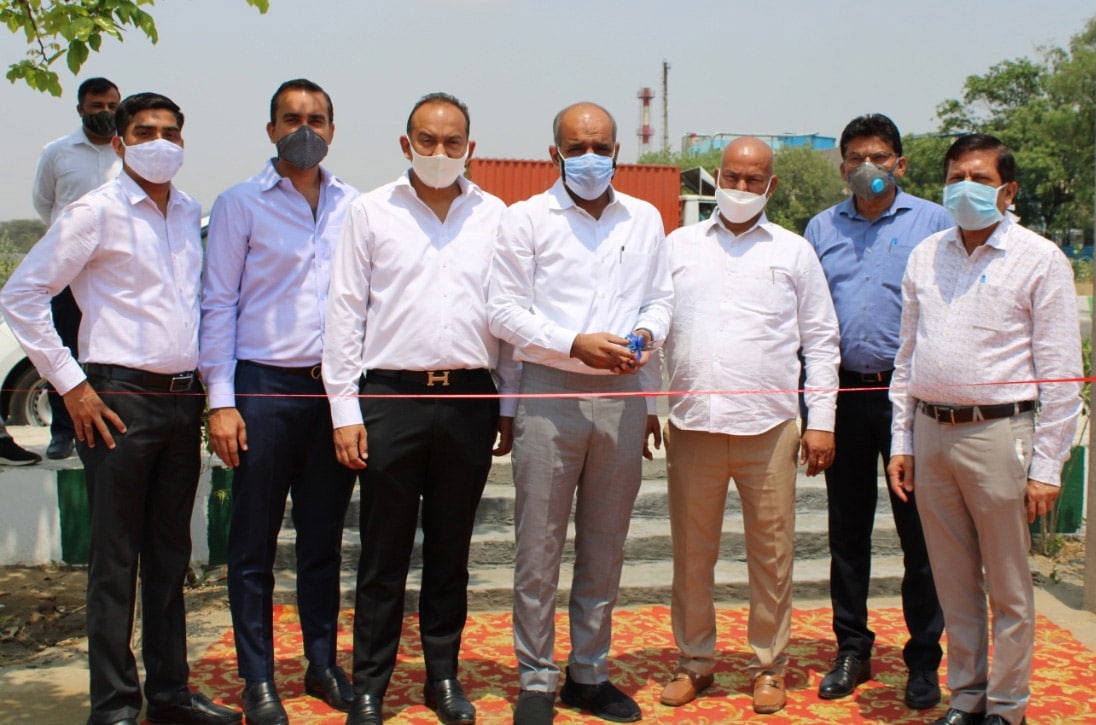 ASK Automotive adopts a park program, within which AHSAAS trust of ASK Automotive Private Limited has adopted a green space in the neighbourhood of IMT Manesar.
The charitable trust of ASK Automotive has adopted a barren piece of land and converted it into a green park of 4 acres courtesy The Haryana State Industrial & Infrastructure development Corporation(HSIIDC). Further ASK will develop this into a public park for the residents of Manesar. The initial cost of development was approximately Rupees 25 lacs and its yearly upkeep would be approximately 20 to 22 lacs. On the 22nd of April 2021 on the occasion of the Earth Day 2021 the development of this Green belt was inaugurated by Mr. Sandip Singh, Haryana State Pollution control Board (HSPCB)RO-North and Mr. Subhash Vatsa, AGM -HSIIDC. Also present on this occasion was Mr. Prashant Rathee, Executive Director ASK Automotive and Mr. Aman Rathee, Executive Director ASK Automotive Private Limited.
Improving our surroundings and protecting the environment by improving the facilities and nurturing life in the park forms a green initiative taken up by the AHSAAS, the CSR trust of ASK Automotive Private Limited. The initiative will include a variety of activities, like planting and maintaining flower beds, cleaning up of litter, removing trash, painting and caring for park structures, installing rain gardens, planting, mulching, and watering trees and plants and generally making sure the park is in order.
The plan is to work along with the residents around the park and together create green and eco-friendly surroundings.
The dedicated volunteers at ASK are committed to enhance and preserve the quality of this Local park thus enriching the life of its surrounding community.
The time spent doing upkeep, cleaning, maintenance, and beautification helps to provide a safer, more beautiful park experience for the entire community.
ASK Automotives Green Belt program creates a powerful partnership between the residents of Manesar and the adopt a park program.
दिनांक 22 अप्रैल 2021 अर्थ – डे के उपलक्ष में ASK AUTOMOTIVE PVT LTD के AHSAAS ट्रस्ट के द्वारा HSIIDC के सहयोग से आवंटित की गई लगभग 4 एकड़ भूमि पर ग्रीन बेल्ट का निर्माण किया गया , इसका उद्घाटन सवयं श्री संदीप सिंह HSPCB RO-NORTH एवं श्री सुभाष वत्स AGM HSIIDC के द्वारा किया गया।
मौके पर उपस्थित श्री संदीप सिंह एवं श्री सुभाष वत्स जी ने ASK AUTOMOTIVE के इस पहल की सराहना की एवं कहा की प्रकर्ति की प्रति उदयोग जगत को इसमें आगे आना चाहिए जिससे वातावरण को स्वच्छ और सुन्दर बनाया जा सके , ASK AUTOMOTIVE द्वारा बनाये गए ग्रीन बेल्ट में 25 लाख रुपये का खर्चा लगाया गया, एवं इसके रखरखाव की लिए सालाना 20 से 22 लाख रुपये खर्चा किया जायेगा।
ASK AUTOMOTIVE टूव्हीलर और फोरव्हीलर वाहनों के पार्ट्स उत्पादन करने वाली भारत की जानी मानी कम्पनी हैं, जो ब्रेक शू, क्लच प्लेट , सेफ्टी केबल , एल्युमीनियम डाई कास्टिंग और फ्रिक्शन कपोेनेंट उत्पादन करती है।